Experience this hands-on interactive workshop with the first-ever board game designed to illustrate what is and is not a great company culture.
Company Culture is a game for team building, department meetings and company events.
It's about what makes a great company culture and what helps your people thrive. This game will get everyone talking about ideas and creating positive programs that make your company a great place to work!
Enjoy the interactive, discussion-rich fun that will have your organization creating actions that will spark your morale and bring all levels of the company together.
That's how you slay the villain of stagnation and create a Built to Thrive™ culture!
Ideal for entire workforces, groups, teams and departments.
We have world-wide reach.  We've had people across multiple time zones learning and connecting together!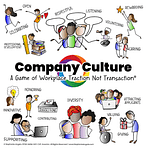 Let's be honest.  Right now, it's an "employee's market".  Every employer I've spoken to is short on staff , struggling to hire and desperate to ensure their employees stay.
Employers are struggling with costs due to lost time, low productivity, turnover, absenteeism, wasted management time, "water cooler" time, client dissatisfaction, work errors and more. We know that the biggest threat to any organization's culture is stagnation. It's the ultimate villain. Built to Thrive™ organizations "slay the villain of stagnation". What are you waiting for?
How you react to the current times is critical.
Health Care | Construction | Real Estate | Accounting | Fitness| Hospitality | you name it…
Did you know that the Company Culture Game™ is customizable?
We can customize the game to make it industry or company specific.
"Traction not Transaction™ is the company's mission to help employees gain emotional traction to grow within the organization well beyond transactional fulfilling of job duties."